A persona, in the word's everyday usage, is a social role or a character played by an actor. The word is derived from Latin, where it originally referred to a theatrical mask.

The Latin word probably derived from the Etruscan word "phersu", with the same meaning, and that from the Greek πρόσωπον (prosōpon). Its meaning in the latter Roman period changed to indicate a "character" of a theatrical performance or court of law, when it became apparent that different individuals could assume the same role, and legal attributes such as rights, powers, and duties followed the role, and that the same individuals as actors could play different roles, each with its own legal attributes, sometimes even in the same court appearance.

In the study of communication, persona is a term given to describe the versions of self that all individuals possess. Behaviours are selected according to the desired impression an individual wishes to create when interacting with other people. A person may inhabit various social roles through intentional or unintentional expression of behaviors and appearances that convey meanings maintaining these roles during social interactions. Therefore, the persona one presents to other people varies according to the social environment the person is engaged in, in particular the persona presented before others will differ from the persona an individual will present when he/she happens to be alone.

The persona is also the mask or appearance one presents to the world. It may appear in dreams under various guises.


Last edited by Admin on Fri 24 Oct - 13:10; edited 2 times in total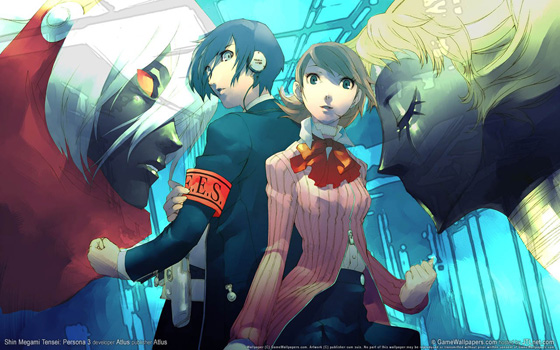 Shin Megami Tensei (真・女神転生?, literally True Goddess Reincarnation) is a role-playing video game from Atlus that was originally released on October 30, 1992 and later on several platforms, although no installment was released outside of Japan. It was originally released on the Super Famicom and was later ported to the PC Engine Super CD-Rom and Mega-CD. The game was later re-released on the PlayStation and the Game Boy Advance to build hype for the game Shin Megami Tensei III.
The game was well received in Japan, where Famitsu gave the game a score of 36 out of 40. It's one of the hardest japanese series game.
Shin Megami Tensei is a Megami Tensei game. A direct sequel, Shin Megami Tensei II, was released in 1994. A third game, Shin Megami Tensei III: Nocturne, was released in 2003, and a fourth, Shin Megami Tensei: Strange Journey, was released in 2009. Translation patches for the first two games are available at the Aeon Genesis Translation Productions' fan website.
Shin Megami Tensei is a first-person RPG, like many regular computer/video game RPGs such as the Wizardry series. The player navigates through dungeons with a party of up to six characters. The combat is turn-based in a representative field of vision that resembles Wizardry in that it is first-person.
The game features two types of characters: Humans and Demons. A key facet of gameplay involves collecting demons. The human Hero acquires these demons via negotiation, bribing and coercion during battle. Once acquired, they can be stored in the party's portable computer and summoned for a small amount of money to be used in battle, and a constant feed of Magnetite (a secondary currency in the game) to be maintained outside of combat. If a demon is defeated during a battle, they must be revived before they can be used again.
A notable aspect of the game is that the player can combine two or three demons and create a more powerful demon. This system is called "Akuma Gattai" which can be translated as "Demon Fusion". This system was passed on from the first game of the series, Digital Devil Story: Megami Tensei and used in later installments.
Last edited by Admin on Fri 11 May - 17:28; edited 2 times in total
We're not here to be better than GoldDgrz, nor the most beautiful, nor anything like that. Knowing it ourselves is sufficient. ;)
On a serious note, we are all here as players. Real people behind their screens, who deserve respect and understanding.
The game has to stay a game, and has to be enjoyed as it.
Log in the game whenever you want and feel like it, don't force yourself - it never gives anything good. Plus mainly people as a work, family and friends - so that's what has to be the more important.
Plus, I won't tolerate any begging nor power leveling directly asked. If you want to power level, ask other people. Same, don't beg the guildies' members for money, or you'll get warned and be kicked. Same about some unrespectful people, I won't tolerate any judgment nor abnormal behaviour (insults, etc).
Now if these words sounds familiar to you, then you're ready to join the ¤PERSONA¤ family.
If not, just go on your way - and have fun ingame.
We will recruit the future PERSONA\ members following these points :
- maturity
- respect
- mutual aid - with pleasure, not by forcing yourself
- relaxation
- correct written language
- and so a true desire to have fun.
Once you'll be a PERSONA\ member ingame, register on the forum - as it's yours. It's full of advices and tips, and it's a place to know better each other, to have fun and share many things together.
Enjoy your stay, and welcome in the PERSONA\ faction !
---
Permissions in this forum:
You
cannot
reply to topics in this forum